crispinhall

Tjej, 28 år. Bor i Stockholm, Stockholms län. Är offline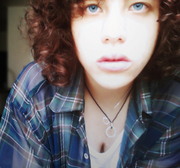 Fakta
Civilstatus: Singel
Läggning: Homosexuell
Intresse: Kreativitet
Bor: Med pappa
Politik: Feminist
Dricker: Te
Musikstil: Annat
Klädstil: Skate
Medlem sedan: 2009-01-27

Event
crispinhall har inte lagt till några event än.


Personlighet: Nördig. Spontan. Intellektuell. Nihilistisk. Filosofisk/tänkare. Drömmare. Poetisk. Sarkastisk. Pratglad. Konstnär. Komplicerad. Hemlighetsfull(mystisk?). Smått galen. Pervers.
Både naiv och cynisk på samma gång, hur nu det går ihop! x)
Intressen: litteratur, fika, umgås med vänner, skriva, måla/skissa, resa, katterna, konst, filmkvällar, konserter, fantisera, läsa serier/manga, promenera, stand-up, politik, sjunga, fanfic, nörda, Severus Snape.
Fandoms: Supernatural, American Horror Story, Sherlock, Harry Potter, Heroes, Lord of the Rings, Criminal Minds, House M.D., Studio 60, The West Wing, Numb3rs, DPS, Castle, Fringe, Glee, and lots of RPS
Bor: I Sthlm
Pluggar: Sam-Bild
Världsbild: Feminist och Militant ateist.
Politik: Miljöpartiet De Gröna
Samhällsfrågor: Genusfrågor, HBTQ-frågor, sexualpolitik, miljöfrågor, antirasism, lika rätt, skolpolitik, asyl- och integrationspolitik, osv.
Missbrukar: Kaffe
Idoler: Misha Collins, Eric Kripke, Christian Calideira, Christopher Hitchens.

Favorit ~

~Band: Fleet Foxes, Mumford & Sons, Florence + the Machine, Metric, Elizabeth Smart, Frank Sinatra, Monica Zetterlund, Edith Piaf, Beecake, Oliver Boyd and the Remembralls, Melissa Horn, Morrissey, The Smiths, Pete Townshend, Emil Jensen, 30 Seconds To Mars, Hamell On Trial, IAMX, Joshua Radin, Kings of Leon, Lifehouse, Better Than Ezra, Lily Allen, Looptroop, Paul Simon, Simon & Garfunkel, Ray LaMontagne, The Proclaimers, Prince of Assyria, Pinguin Prison, Svenska Akademien, Great Lake Swimmers, Josh Groban, Darren Criss, Stephen Lynch, Tim Minchin, AC/DC, Iron Maiden, Metallica, Black Sabbath, Led Zeppelin, Blue Öyster Cult, Leonard Cohen, osv.
~Böcker: För många att räkna upp! The Doors of Time och The Rehearsal är absoluta favoriter.
~Författare: Felis Blanco, Eleanor Catton, Christopher Hitchens, Richard Dawkins, J.K. Rowling, Elizabeth Kostova, osv.
~Poeter: Emil Jensen, Ivan Coyote
~Filosof: Nietzsche
~Filmer: Howl, Dead Poets Society, Mr. Nobody, Brokeback Mountain, Loving Annabelle, JFK, Total Eclipse, Pride and Prejudice, Stranger Than Fiction, Brideshead Revisited, Lord of the Rings, Good Will Hunting, An American Crime, Interview with the Vampire, Fight Club, Edward Scissorhands, American History X, Chapter 27, Finding Neverland, Philadelphia, osv.
~TV-serier: SUPERNATURAL <3 Och många, många fler.
~Djur: Späckhuggare, Ozelot och Katt
~Färger: Grön & Brun
~Årstid: Hösten
~Citat: "Love is not all wine and roses. Sometimes it's handcuffs and cheese.", "If my devils are to leave me, I am afraid my angels will take flight as well."



I find kinship in books, and words.
"Weird" is what I have always been, and it fits me, and helps me find others like myself. I have always, and will always, surround myself with beautiful misfits and defiant, dangerously mouthy deviants.
Because the thing is, I don't want your "normal". "Normal" never got any of us anywhere.




"If my devils are to leave me, I am afraid my angels will take flight as well."
Am I both transparent and opaque, illegible and an open book? What is the point of all my dissembling and simulation if friends, acquaintances, enemies and perfect strangers are able to see through my every motive, thought and feeling? What is the point of all my frankness, sharing of experience and emotional truth if people continue to misinterpret me to such extent that they believe me balanced, sorted, rationally in charge, master of my fate and captain of my soul?
crispinhalls musik
30 Seconds To Mars
,
311
,
A TRIBE CALLED QUEST
,
AC/DC
,
Alanis Morissette
,
Annie Lennox
,
Barenaked Ladies
,
Beecake
,
Black Sabbath
,
Blue Öyster Cult
,
Cocorosie
,
Coldplay
,
Darren Criss
,
Draco and the malfoys
,
Edith Piaf
,
Emil Jensen
,
Enya
,
Explosions In The Sky
,
Fleet Foxes
,
Fleetwood Mac
,
Flogging Molly
,
Florence + The Machine
,
Frank Sinatra
,
Great Lake Swimmers
,
Harry and the potters
,
Hello Saferide
,
Howard Shore
,
IAMX
,
Imogen Heap
,
Iron Maiden
,
Janne da Arc
,
Johnny Cash
,
Josh Groban
,
Joshua Radin
,
Kansas
,
Kings Of Leon
,
Led Zeppelin
,
Leonard Cohen
,
Lifehouse
,
Lily Allen
,
Linkin park
,
Looptroop
,
Melissa Horn
,
Metallica
,
METRIC
,
Ministry of magic
,
Monica Zetterlund
,
Morrissey
,
Mumford & Sons
,
Neil Young
,
Paul Simon
,
Puddle of Mudd
,
Ray LaMontagne
,
Salem Al Fakir
,
Seether
,
Simon & Garfunkel
,
Status Quo
,
Stephen Lynch
,
Svenska Akademien
,
The Cranberries
,
The Jam
,
The Offspring
,
The Perishers
,
The Police
,
The proclaimers
,
The Remus Lupins
,
The Smiths
,
The Verve Pipe
,
The Weepies
,
The Who
,
The whomping willows
,
Tim Minchin
,
U2
,
Walt Disney
,
Within Temptation