VladimirLupinus

Tjej, 23 år. Bor i Täby, Stockholms län. Är offline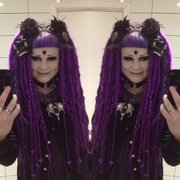 Event
VladimirLupinus har inte lagt till några event än.
IG: Vladimirthevampire
Tumblr: pinkwtf.tumblr.com



Darkling I listen
and, for many a time I have been half in love with easeful Death,
Call'd him soft names in many a musèd rhyme,
To take into the air my quiet breath;
Now more than ever seems it rich to die,
To cease upon the midnight with no pain,
While thou art pouring forth thy soul abroad
In such an ecstasy! Still wouldst thou sing,
and I have ears in vain
To thy high requiem become a sod.
VladimirLupinus musik
2NE1
,
30 Seconds To Mars
,
AC/DC
,
Aerosmith
,
Alice Cooper
,
Alice in Videoland
,
Assemblage 23
,
B1A4
,
Bauhaus
,
BIGBANG
,
Black Sabbath
,
Bob Dylan
,
Broder Daniel
,
Bullet for My Valentine
,
Coldplay
,
Colony 5
,
Crystal Castles
,
Die Antwoord
,
Disturbed
,
Ebba Grön
,
Echo & The Bunnymen
,
Eisenfunk
,
Evanescence
,
Foo Fighters
,
Green Day
,
Hurts
,
Håkan Hellström
,
Imperiet
,
In Flames
,
Infected Mushroom
,
Iron Maiden
,
Joy Division
,
Kent
,
Kerli
,
Lana Del Rey
,
Marilyn Manson
,
Marina and the Diamonds
,
Melody Club
,
Metallica
,
MGMT
,
Mumford & Sons
,
Mustasch
,
My Chemical Romance
,
Nirvana
,
Nordman
,
Ozzy Osbourne
,
Panic At The Disco
,
Pink Floyd
,
Queen
,
Rammstein
,
Raubtier
,
SHINee
,
Siouxsie and the Banshees
,
Slipknot
,
Sopor Aeternus
,
Sopor Aeternus & The Ensemble of Shadows
,
System of a Down
,
The Cure
,
The Pretty Reckless
,
The Sisters Of Mercy
,
The Smashing Pumpkins
,
The Smiths
,
Veronica Maggio
,
Versailles
,
X-RX