EnragedSoul

Kille, 34 år. Bor i Östervåla, Västmanlands län. Är offline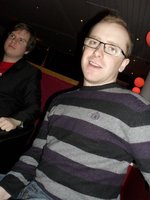 Fakta
Riktigt namn: Dare to ask ;)? Civilstatus: Singel
Läggning: Straight
Intresse: Tatuering
Bor: Kartong
Politik: Politik?
Dricker: Öl
Musikstil: Hårdrock
Klädstil: Vanlig
Medlem sedan: 2009-05-19

Event
EnragedSoul har inte lagt till några event än.
Go, stop the show
Choppy words and a sloppy flow
Shotgun, opera, lock and load
Cock it back and then watch it go
Mama help me I've been cursed
Death is rolling in every verse
Candy paint on his brand new hearse
Can't contain him, I knows he works
Fuck, this hurts
But I won't lie
Doesn't matter how hard I try
Half the words don't mean a thing
And I know that I won't be satisfied
So why try ignoring him
Make it a dirt dance floor again
Say your prayers and stomp it out

I play Russian roulette everyday, a man's sport,
With a bullet called life, yeah mama called life
You know that every time I try to go
Where I really want to be,
It's already where I am,
Cause I'm already there!!!
EnragedSouls musik
30 Seconds To Mars
,
AC/DC
,
Alter Bridge
,
Apocalyptica
,
Atreyu
,
Billy Talent
,
Breaking Benjamin
,
Bullet for My Valentine
,
CKY
,
Crossfade
,
Dead By April
,
Disturbed
,
Dope
,
DragonForce
,
Falconer
,
Fall Out Boy
,
Goldfinger
,
Green Day
,
Hinder
,
Ill Niño
,
In Flames
,
Katatonia
,
Killswitch Engage
,
Korn
,
Linkin park
,
LOK
,
Lynyrd Skynyrd
,
Marilyn Manson
,
Metallica
,
My Chemical Romance
,
Neverstore
,
Nickelback
,
P.O.D
,
Papa Roach
,
Placebo
,
Plan Three
,
Poets of the Fall
,
Rage against The machine
,
Raised Fist
,
Rammstein
,
Raubtier
,
Renegade Five
,
Rise Against
,
Sabaton
,
Scars on broadway
,
Scary Kids Scaring Kids
,
Serj Tankian
,
Shinedown
,
Slipknot
,
Social Distortion
,
Sonic Syndicate
,
System of a Down
,
Takida
,
Tool
,
Trivium
,
Whitesnake
,
ZZ Top