SmyD

Tjej, 29 år. Bor i Sandviken, Gävleborgs län. Är offline och var senast aktiv: 7 januari kl. 14:49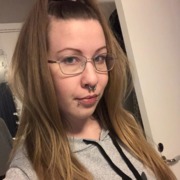 Fakta
Riktigt namn: Angelica Civilstatus: Upptagen
Läggning: In the closet
Intresse: Musik
Bor: Själv
Politik: Anti-allt
Dricker: Nej!
Musikstil: Alternative Rock
Klädstil: Blandat
Medlem sedan: 2008-02-12


Har tillbringat 12 år på EC, grattis till mig.

---

believe me when I tell you that I've been persistent
cause I'm more scarred, more scarred than my wrist is
---
Kommande event:


Juni:
23, tis - System of a Down (Globen, Sthlm) - ?

Juli:
10, fre - The Ark (Furuviksparken) - ?
14, tis - Gwen Stefani (Gröna Lund) - ?

September:
24, tors - Nordman (Gävle Konserthus) - framflyttat



---



Alla band/artister jag har sett live:


2008:
Miyavi

2009:
LM.C
An Cafe
Girugämesh
Britney Spears + DJ Havana Brown
D'espairsRay
Lady GaGa + Hyper Crush + DJ Qute
Miyavi
MUCC

2010:
LM.C
Kent + Camela Leierth (Röd)
Tokio Hotel
Lady GaGa + Semi Precious Weapons
Adam Lambert + Viktorious

2011:
Jedward + Le Kid
Owl City + Unicorn Kid
Britney Spears + Joe Jonas & Destinee & Paris
50 Cent + Stockholmssyndromet, Lazee, J-Son, Trickykid & Eboi

2012:
Silverstein + We Are The Ocean
Hot Chelle Rae + LCTRISC
LMFAO
Pitbull
Nicki Minaj + Adam Kanyama
Kent (Jag är inte rädd för mörkret)
Furuvik ReggaeFestival (Shaggy, Alborosie, T.O.K, Timbuktu, Kalle Baah)
Lady GaGa + The Darkness
We Love The 90?s (La Cream, Corona, Snap!, Dj Sash, E-type, Dr Bombay, Markoolio)
Mindless Self Indulgence + Julien-K
The Used + Lower Than Atlantis
Rockklassiker Live (Scorpions, Skunk Anansie, Sator, Dalton, Badmouth)

2013:
Justin Bieber + The Fooo
One Direction + Camryn
Pink + Churchill
30 Seconds To Mars
Furuvik ReggaeFestival (Inner Circle, Protoje, Julian Marley, U-Roy, Labyrint, Stor, Dani M)
Macklemore & Ryan Lewis + Chance The Rapper
Tele2 Arenas Invigning (Kent, Lars Winnerbäck, Robyn + Zhala)
Lil Wayne + Mac Miller
Mindless Self Indulgence + The Red Paintings

2014:
Kraftwerk
Ellie Goulding + Chloe Howl
Backstreet Boys + The Exchange
Nine Inch Nails + Cold Cave
Robbie Williams
Miley Cyrus + Sky Ferreira
Blondie
One Direction + 5 Seconds Of Summer
Lady GaGa + Breedlove, Lady Starlight
Lindsey Stirling
Hollywood Undead + Icon For Hire
ONE OK ROCK + Tonight Alive & Mallory Knox

2015:
Slipknot + King 810
Bryan Adams
Katy Perry + Charli XCX
Pierce The Veil & Sleeping With Sirens + Issues
5 Seconds Of Summer + Hey Violet
Marilyn Manson
Hollywood Undead
The Offspring
The Island Festival (David Guetta, Otto Knows, mfl)
Papa Roach, Fiver Finger Death Punch + Devil You Know

2016:
Hollywood Undead + Attila
The 1975 + The Japanese House
5 Seconds Of Summer + Don Broco
Muse + The New Regime
Red Hot Chili Peppers + Deap Vally
Justin Bieber + The Knocks + MiC LOWRY
Kent (avslutningsturnén)

2017:
Green Day + The Interrupters
The Weeknd + Lil Uzi Vert, Lil Panda
Tokio Hotel
Gorillaz + Little Simz
Marilyn Manson
Henrik Berggren + Mattias Alkberg

2018:
Fall Out Boy
Hollywood Undead *VIP*
Elvis Live on Screen: The Wonder of You ft. Priscilla Presley
Eminem + Pusha T & Royce 5'9
Britney Spears + Pitbull *VIP*

2019:
Karpe
Phil Collins + Sheryl Crow
Toto + The Night Flight Orcestra
Vi som älskar 90-talet (Londonbeat, Me and My, Cut'n'Move, Mendez, Da Buzz, Vengaboys, Victoria Silvstedt, Cappella, N-Trance, Drömhus, Markoolio, Boyzlife, Right Said Fred, Snap!, Eiffel 65, AQUA, Melodie MC, Cascada)
Gefle Metal Pre-party (W.A.S.P, Wolf, Bullet, Mystik)
Gefle Metal Festival (Avatar, Deathstars, Dimmu Borgir, Entombed A.D, Evergrey, Eluveitie, Dark Tranquility, Macabre Decay)
Crazy Town
PINK + Vance Joy, Bang Bang Romeo
Rammstein + Duo Jatekok
Jon Bellion + Travis Mendes
Queenie Forever

2020:
Babymetal + SKYNK
Melanie Martinez + Naaz

---
Småspelningar:

Nordman x9, Kogo x2, Itchy Daze x2, Alice Svensson x3, Markus Fagervall, Nanne Grönvall x3, Markoolio x2, Alcazar, Marin Stenmarck x2, Dogge Doggelito, Uno Svenningsson, Promoe, Salem Al Fakir, Patrick Isaksson, Kalle Moraeus, Sanna Nielson, Andreas Johnson, Kid Jesus & F the Rex, Amy Diamond x3, EMD, Alexander Rybak, Electric Banana Band, Timoteij x3, Love Stoned, Starpilots, Linda Bengtzing x2, September, Velvet, Maven Mode x6, Irie Vibes x2, Vice Versa, Petter x2, Trainspotters x3, Nääk & Nimo x2, Professor P & Dj Akilles, Looptroop Rockers, Hoffmaestro, P Money & Sukh Knight, Kalle Baah & Governor Andy x2, Darin x2, Magnus Uggla x2, Lena Philipsson, E-type x3, Lasse Berghagen, Stures Dansorkester, Swingfly, Danny Saucedo, The Moniker, Sean Banan x2, Thomas Di Leva, Rappare I Samverkan, Mange Makers x2, The Pusher x2, Den Svenska Björnstammen x2, Norlie & KKV, Maskinen & Style of Eye, Labyrint x3, Kapten Röd, General Knas, Despite Good View x2, Molly Sandén, Young Blood, Mimi Oh, FARAN, Drunken Autopilot, Veronica Maggio, Jonathan Johnsson, Markus Krunegård, Magnus Ekelund & Stålet, Panetoz x2, David Lindgren x2, YOHIO x2, Björn Rosenström, Lillasyster, Skitarg, Ulrik Munther, Anton Ewald x2, Mary N' Diaye, Eddie Razaz, Stiftelsen, Robyn, Zhala, Lars Winnerbäck 2, Organismen & Gonza-Ra, Avicii, John Dahlbäck, Henrik B, Audrio, Kartellen, The Kristet Utseende, Jens Hult, Henric De La Cour, Fronda, Rednex, albin, Little Jinder, Frans, Maxida Märak, Brolle, Renaida Braun, Nano x2, Mohombi, Måns Zelmerlöw, Lars Winnerbäck
SmyDs musik
5 Seconds Of Summer
,
Anton Kristiansson
,
Armor for sleep
,
Bespa Kumamero
,
Bloodhound Gang
,
Britney Spears
,
Broder Daniel
,
Crazy Town
,
Deuce
,
Dir en grey
,
Emilie Autumn
,
Eskimo callboy
,
Fall Out Boy
,
Girugämesh
,
Hawthorne Heights
,
HEAR
,
Hollywood Undead
,
Kent
,
Kill Hannah
,
Kraftwerk
,
Lady Gaga
,
Lm.c
,
Marilyn Manson
,
Mejibray
,
Melanie Martinez
,
Metro Station
,
MILLIONAIRES
,
Mindless Self Indulgence
,
Misfits
,
Moon Kana
,
My Darkest Days
,
Nordman
,
Patrick Stump
,
Puffy AmiYumi
,
Sex Pistols
,
Strip Music
,
Studio Killers
,
T.A.T.u
,
The Clash
,
Trish Thuy Trang
,
Unicorn Kid
,
Whiteberry
SmyDs gästbok
Logga in för att skriva.