Intelikacoolsomdu

Kille, 28 år. Bor i Strängnäs, Södermanlands län. Är offline och var senast aktiv: 18 maj kl. 17:29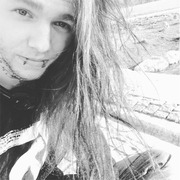 Fakta
Riktigt namn: Scott Civilstatus: Singel
Läggning: Straight
Intresse: Spel
Bor: Inte valt
Politik: Inte valt
Dricker: Saft
Musikstil: Allt
Klädstil: Blandat
Medlem sedan: 2010-03-29

Presentation, Vad är det? Något som jag är dålig på i alla fall.




"Our bad choices can contain untold loss, remorse, and regret,
but the positive value of these bad choices might be immeasurable if we can face them,
admit to them, learn from them and find the strength to share."




Death is but the doorway to new life.
We live today, we shall live again.
In many forms shall we return.




"As human beings, we need to know that we are not alone, that we are not crazy or completely out of our minds, that there are other people out there who feel as we do, live as we do, love as we do, who are like us."



"You're worth it, and when you feel weak,
The deeper the trench, the higher the peak.
See y'all are a piece of my legacy,
Cause you believe we can be anything and I wanna be... me."

"Opinions from people that never get it.
You buy every lie that they're sellin' to you,
You stole my style, never gave me credit.
You would buy my story if I'd sell it to you.
Remember back, I was surfin' couches,
My new estate got a fuckin' fountain.
A middle finger for a fuckin' doubter,
I keep it deep enough to watch ya fuckin' drownin' now."

"I barely knew you back then,
But man, the things I remember it's all in my mind.
Tears on my face as I'm writing these lines,
To imagine a place, If I asked are you fine.
Didn't care, never talked, wasn't there, never called.
Then you were gone, only thing I recall,
No smile, no feelings, no heart,
She felt nothing at all.
Like, what could I say?"

"When you bitch, when you bitch, when you bitch.
Counterfeit hypocrite holy shit.
Once upon a time in a land far away,
There lived a little boy and he cried all day,
Playboy bunny magazines would never get him laid.
He downed another bottle til the pain went away."

"I'm a mess and I will always be
Do you want to stick around and see me drown?
Fuck, I'm about to lose it all."










Intelikacoolsomdus musik
Intelikacoolsomdu har inte lagt till några band än
Intelikacoolsomdus gästbok
Logga in för att skriva.