Hero

Kille, 38 år. Bor i Vänersborg, Västra Götalands län. Är offline och var senast aktiv: 4 mars kl. 08:22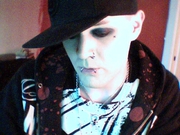 Fakta
Civilstatus: Singel
Läggning: Straight
Intresse: Kreativitet
Bor: Själv
Politik: Vänster
Dricker: Energidricka
Musikstil: Skatepunk
Klädstil: Svart
Medlem sedan: 2013-07-30

Event
Hero har inte lagt till några event än.
With only half a soul left to care
a gaping hole, I gasp for air.
The sky above me have gone black,
I faintly remember stars when I think back.

I stained your carpet when you lied
with taint and sorrow when I cried.
You drank my blood, you ate my heart,
you made my body your work of art.

With youth and innocence all long gone
my life is cursed, until next dawn
The things I see, the things I dream
a whirlwind of thoughts, a silent scream

And yet a star above I see, how could it be?
A deep blue sea to set me free, a climbing tree.

I take my pills, turn off the light
and run away from hell tonight.




ATTITYD
Romantiker - "Let me be your hero."

SEXUELL LÄGGNING
Straight - "I don't do boys, yet."

CIVILSTATUS
Inte intresserad - "Keep the fuck away from my heart."

INTRESSEN
Obesvarat - "Life, Writing, Roleplay, Music, Travel, Drinking, Philosophy, Cooking."

BOENDE
Ensam - "With my cats."

POLITIK
Obesvarat - "Be yourself and make a change."

SEXLIV
Avancerat - "I am the god of fuck."

HÅR
Rakad - "Nowadays shaved all over."

DRICKER
För mycket - "Red wine & Absinthe."




Heros musik
30 Seconds To Mars
,
A Day To Remember
,
AFI
,
Angels & Airwaves
,
Avril Lavigne
,
Blink-182
,
Blue October
,
Bob Marley
,
Brand New
,
Combichrist
,
Cute Is What We Aim For
,
Faderhead
,
Foo Fighters
,
Future Idiots
,
Get scared
,
Goo Goo Dolls
,
Good Charlotte
,
Iggy Pop
,
Joy Division
,
Jumper
,
Kent
,
Linkin park
,
Lord Of The Lost
,
Marilyn Manson
,
Millencolin
,
Neverstore
,
Nina Rochelle
,
Nirvana
,
Nordman
,
Paramore
,
Rob Zombie
,
Saves The Day
,
Senses Fail
,
Silverstein
,
Sisters of Mercy
,
Snow white's poison bite
,
Social Distortion
,
SR-71
,
Sum 41
,
Taking Back Sunday
,
The Distillers
,
The Starting Line
,
Tonight Alive
,
Underoath
,
White Zombie
,
Yellowcard